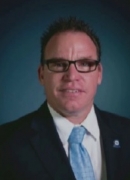 Devin J. Hugie MBA, FASHE, CHFM, CHC
Executive Director Support Services, Children's Hospital of Orange County
Devin is currently the President and CEO of DHI Consulting. Previously Devin was the Executive Director of Support Services for Children's Hospital of orange County (CHOC). Prior to CHOC he was the Director of Facilities and Support Services for Providence Little Company of Mary Torrance and San Pedro.
Devin has a Masters of Business Degree in Healthcare Management and a Bachelor of Science Degree in Management both from California Coast University; Additionally, he has a certificate of facility Management from the University of California Irvine.

Devin recently completed his second term as the American Society for Healthcare Engineers (ASHE) region 9 Director and continues to serve on the Advocacy Committee for ASHE and the American Hospital Association. Devin recently completed serving as the CEO/President of the California Society for healthcare Engineers (CSHE) along with supporting the California Hospital Association with other Committee and Advocacy efforts.

Devin is recognized by the American Hospital Association as a Certified Healthcare Facility Manager (CHFM) and a Certified Healthcare Constructor (CHC); Additionally, in 2012 he received his Senior status (SASHE) and in 2018 received his Fellow status (FASHE). Devin received the outstanding member award from the California Society of Healthcare Engineers (CSHE) in 2011 and the Presidents award for outstanding leadership in 2013, and the Distinguished member award in 2014. Additionally, Devin is recognized by the Board of Certified Healthcare Safety Management as a Certified Healthcare Safety Professional Senior Status (CHSP) with the Fire Safety Management endorsement (FSM) and is a Certified Healthcare Emergency professional (CHEP). Devin also is a Senior Certified Healthcare Mechanic, and he has numerous professional licenses such as Universal 608, Unlimited L.A Steam License, and is BOC Level I and II certifications. Devin is also a Certified Life Safety Specialist (CLSS-HC) and a Certified Emergency Power System Specialist (CEPSS-HC) with the National Fire Protection Association (NFPA) and participated in the exam development for both certifications.

Devin is an active member in good standing with associations such as the California Society of Healthcare Engineers (CSHE), American Society for Healthcare Engineering (ASHE), National Fire Protection Association (NFPA) Healthcare Section, International Association of Healthcare Safety and Security (IAHSS).